What We Do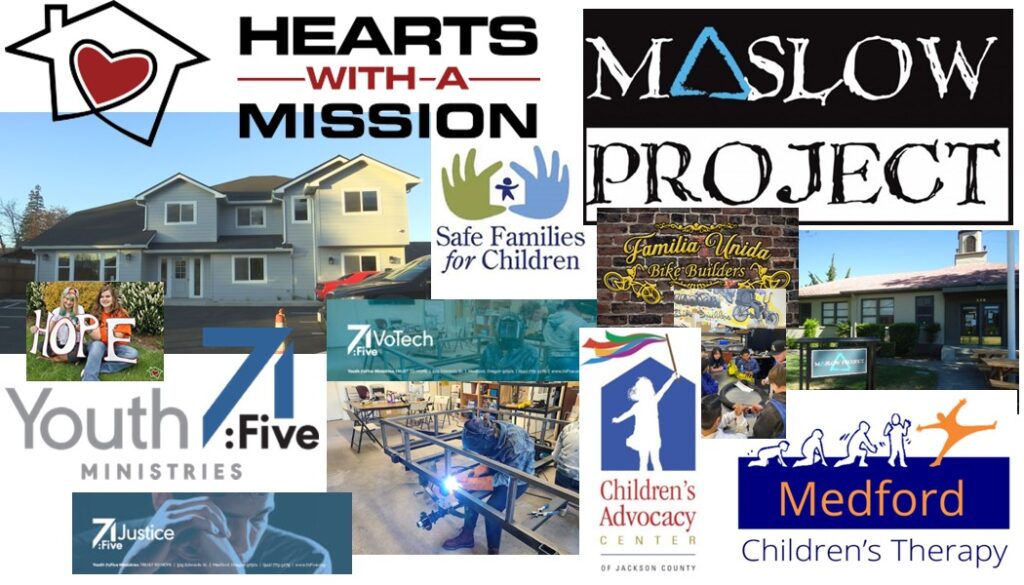 Supporting Homeless, Vulnerable and At-Risk Children & Youth
Our Kiwanis club raises funds that support Hearts With A Mission who serve homeless, runaway, and transitional youth in crisis by providing shelter, educational support, mentoring, family reunification, and transition planning with a faith-based approach. We also support Maslow Project who empower homeless youth to thrive independently through supports that stabilize and engage in all aspects of life. Most recently we contributed to Safe Families for Children who hosts vulnerable children and creates extended family–like supports for desperate families through a community of devoted volunteers who are motivated by compassion to keep children safe and families intact. Youth 71:Five Ministries (formerly Youth for Christ) offers numerous programs for children and youth. We support their Juvenile Justice program, their Vocational program, a Parenting program and the organization overall. We are happy to support the Children's Advocacy Center, Medford Children's Therapy and the Familia Bike program. As you can see, Kids do need Kiwanis!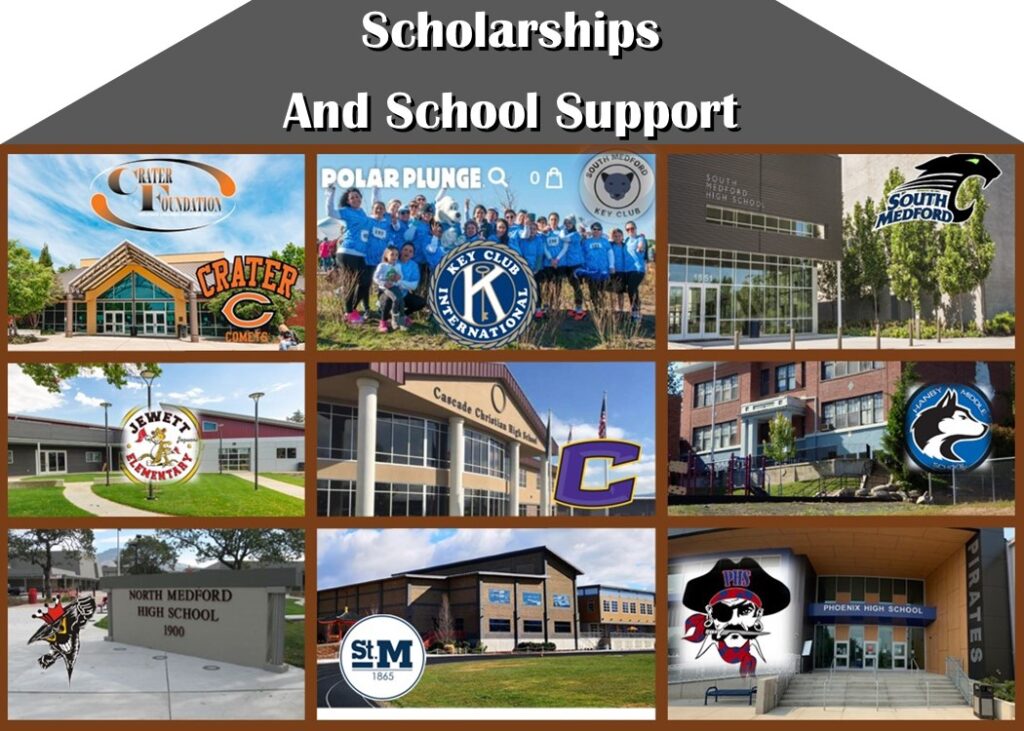 Scholarships and schools support
Through our Table Rock Kiwanis Foundation and our Services account, we provide scholarships to students at South Medford High School, North Medford High School, Phoenix High School, Cascade Christian High School, St. Mary's High School and Crater High School through the Crater Foundation. We try to meet the needs of the local schools when they arise, supporting Jewitt Elementary's Morning Mile Program and Hanby Middle School's Athletic Program to name a few.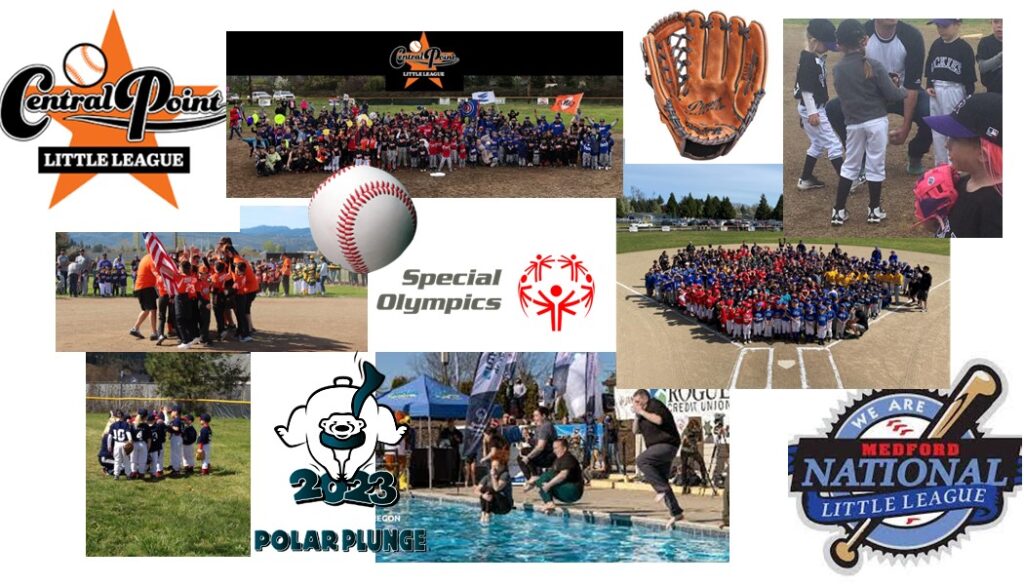 Sports Activities
When a couple of board members of the Central Point Little League spoke at our meeting, sharing the need to make major improvements to the Little League fields, we decided to jump on board and sponsor a team and continue to do so. We have now added the Medford National Little League to our sponsors as we have added a team sponsorship here as well. We plan to help out on site as opportunities arise during the renovations. Look for Table Rock Kiwanians out there cheering on their team. Another favorite is Special Olympics. Over the years Table Rock Kiwanis has been involved with Special Olympic events as well as providing financial support. A favorite is the annual Polar Plunge which raises money for Special Olympics, sponsoring the South Medford Key Club Team as well as others, including members that took the plunge into the icy water.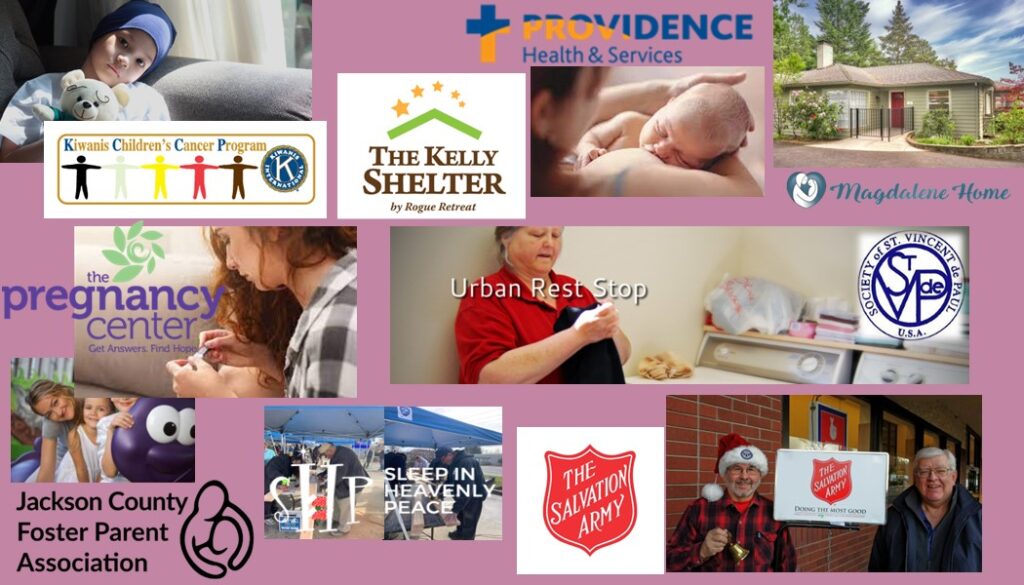 Social Services
There are many organizations that provide needed services in our community. We are pleased to support these organizations including The Salvation Army, St. Vincent DePaul's Urban Rest Stop, The Kelly Shelter, The Pregnancy Center, Magdalene Home, Providence Birthplace, Jackson County Foster Parents, Childrens Advocacy Center and the Kiwanis Children's Cancer Program. Several provide assistance to pregnant mothers, working with expecting families, providing support, information, and hope for the future. Others are there for the homeless population, meeting their basic needs and working to find them safe and acceptable housing. Jackson County Foster Parents runs programs that provide free clothing and school supplies for foster children as well as birthday, Christmas, and Easter gifts, thanks to donations from community partners. All children deserve a safe, comfortable place to lay their heads. In Oregon and across the US, too many boys and girls go without a bed—or even a pillow—to sleep on. These children end up sleeping on couches, blankets, and even floors. This can affect their happiness and health. That's where Sleep in Heavenly Peace comes in. They're a group of volunteers dedicated to building, assembling and delivering top-notch bunk beds to children and families in need. Table Rock Kiwanis provides financial support as well as members volunteering to build the beds. In supporting the Kiwanis Children's Cancer Program, we are helping to fund the Pediatric Hematology/Oncology Fellowship Program at OHSU Doernbecher Children's Hospital. Our gift transforms pediatricians into physician scientists who go on to perform important research and patient care, shortening the time it will take to end the disease.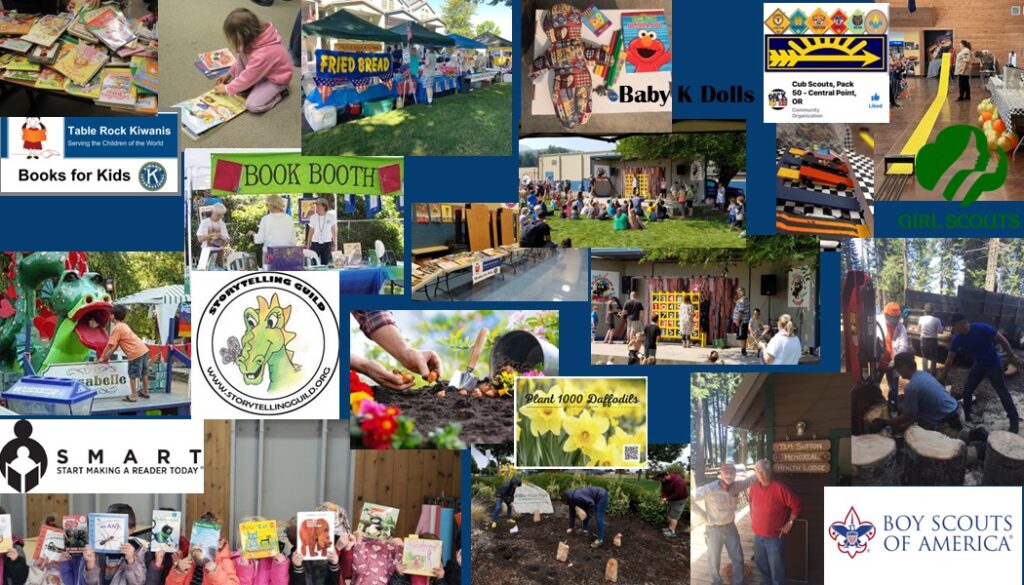 But wait, there is more.
Years ago, a member came up with an idea of collecting used children's books and redistributing them to kids in the community. Thus "Books for Kids" was born. Since then, close to 50,000 books have been put in the hands of young readers. In conjunction with that, we are working with SMART and the Story Telling Guild. Kids need to read! The books mostly are distributed at the Central Point Christmas tree lighting and parade event each year. We are also able to place books in the hands of kids at the Gold Hill Kids Day event. Another old favorite is our Baby K doll program which distributes handmade dolls to kids that are sick, injured, or traumatized. Most recently we have partnered with Fire District Three where they are distributing dolls to kids that have experienced a terrifying experience. We sponsor a cub scout pack in Central Point, providing them with their own Pinewood Derby racetrack. We regularly help in preparing the scout camp at Lake of the Woods for the summer camping season. We are exploring opportunities with the Girl Scouts as we also used to help prepare their camps. A recent program that we have supported is the Central Point Daffodil Planting Project, Plant 1000 Daffodils, helping financially and members helping to plant bulbs. Kiwanis loves to make a difference in the lives of children and youth, and in the communities we live. Finally, four times a year, a group of our members hit Pine Street in Central Point, picking up any and all the trash they can find, helping to keep Central Point's primary street spic and span.
Are you ready to join us? Contact us to apply for Kiwanis club membership.